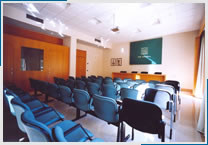 Training Events Organized by the Nursing Home
Personality and depression
Conference 8 May 1992
Opening of M. Giacopuzzi
Phenomenological and psychoanalytic reflections on melancholia. G. Gozzetti
The borders of depression. A. Balestrieri
Personality and depression: meeting points and boundary lines. A. Giannelli
Personality and depression: historical, biological, clinical and psychological aspects. Speeches: A. Bonetti, L. Bonuzzi, G. Caprini, A. Cunego, F. Nosè, C.A. Robotti, M. Tansella
Depression: biological therapies and psychotherapy
Conference May 26, 1993
Opening of M. Giacopuzzi
Psychotropic drugs in the treatment of depressive syndromes. "The state of the art". M. Tansella, C. Bellantuono
Light-Therapy in depressive syndromes. A. Meluzzi
Pharmacotherapy and psychotherapy: a difficult integration. A. Balestrieri
Mourning and melancholy today. R. Rossi
Psychotherapy, depressive and clinical experience of depression. F. Nosè
Sexuality and psychiatry
Conference 2 June 1994
Opening of M. Giacopuzzi
Instinct and learning in human sexuality. A. Balestrieri
Psychiatry and Sexology compared. G. Abraham
Alteration of sexuality in the narcissistic organization of the Self. O. Sicilians
Sexuality and therapeutic relationship. F. Nosè
The problem of the norm in sexology. R. Rossi
Professional responsibility in terms of "emotional-sexual relationships" patient therapist. C.A. Robotti
Sexuality in the elderly. M. Trabucchi
Psychogenic eating disorders
Meeting 10 May 1996
G.C. opening Menini
Anorexia and hyperorexia nervosa: short reflections. M. Giacopuzzi
The bodily experience in psychogenic eating disorders. A. Balestrieri
Art and psychopathology
Conference 7 November 1997
Opening of M. Giacopuzzi
The psychopathology of expression in its historical development. V. Andreoli
Existential pressure and aesthetic processing. A.G. Gargani
Corporeity, disease and existence in the "Enchanted Mountain". L. Bonuzzi
Straddling a broomstick: the vicissitudes of the aesthetic object. F. Nosè
The communicative power of art. S. Zecchi
Human nature and artistic expression. A. Balestrieri
Prolonged adolescents - Burnt youth
Conference September 24, 1999
Opening of M. Giacopuzzi
Introduction M. Tansella
Youth against. V. Andreoli
Risk adolescence and adolescence at risk. F. Nosè
"... of the diman there is no certainty". Young people and time. D. Morano
The youth condition between autonomy and dependence. I. Spano
The sense of beauty in young people. S. Zecchi
Psychotherapy and psychotropic drugs in the treatment of Obsessive-Compulsive Disorder
Interregional Conference 12 November 1999.
Epidemiology of D.O.C. M. Tansella
Pharmacological treatment of D.O.C. G. Imperadore
Psychotic characteristics of D.O.C. M. Giacopuzzi
Working memory in D.O.C. Assumptions on the integrability between pharmacotherapy and psychotherapy. G. Liotti
Cognitive Therapy protocols in D.O.C. F. Mancini
The disturbance of thought in the D.O.C .: intervention strategies. R. Lorenzini
The Doctor of 2000 between Hippocratic Oath and System requests
Meeting of 25 March 2000
Report M.E. Alberti Casellati
Psychoanalysis and psychotherapy: which continuity?
International conference 12 April 2000
Presentation M. Giacopuzzi
Introductory report O. Siciliani, R. Siani
Epistemology of the science of therapy. I. Spano
The misunderstanding of therapeutic factors. Mp Galli
A theory-centered to patient-centered approach to the psychoanalytic and psychotherapeutic process: a self-psychological perspective. P. Ornstein
Psychoanalysis, psychotherapy and training: a brief note. G. Nebbiosi
A clinical case from a personal point of view. P. Ornstein, A. Ornstein
Accreditation: quality guarantee
Meeting 4 May 2001
Opening: R. Maggioni
Interventions: V. Alberti, M.G. Sinatra, G. Puntin, F. Toniolo, P.M. Fazzini
Obsessive-Compulsive Syndrome: recent acquisitions in psychotherapeutic and pharmacological fields
Training seminar 23 November 2001
Opening of the works. M. Giacopuzzi
Clinical heterogeneity of Obsessive-Compulsive Disorder. M. Raja
Neurochemical, neuroendocrine and pharmacological treatment of Obsessive-Compulsive Disorder. L. Bellodi
Testistic evaluations in Obsessive-Compulsive Disorder through the description of a clinical case. D. Morano
Cinema and psychiatry
Meeting 30 November 2001
G. Cremonini Report
The lost penis: in search of a new identity
Meeting 7 March 2002
Introduction M. Giacopuzzi
Report V. Andreoli
Truth and lies in the therapist-patient relationship
Training seminar 10 October 2002
Introduction M. Bortolomasi
Opening of the works M. Giacopuzzi
The therapeutic relationship between technique and false consciousness. Mp Galli
True, plausible, false: what patients and therapists are told about. F. Nosè
From the Firma to the Miles Gloriosus. Truth and Lies in the therapist-patient relationship. R. Rossi
The countertransference dimension in the meeting between therapist and patient. E. Borgna
If healing remains a goal, control is a reality: the state of the art in the treatment of anxiety and depression. From the clinical response to clinical remission. B.C. Altamura
Restless souls. The paths of suicide
Training event 23 May 2003
Opening of M. Giacopuzzi
Existential nihilism and the variety of its symbolic versions. A.G. Gargani
The risk of suicide in mood disorders. L. Tondo
Suicide in schizophrenia. R. Tatarelli
The disdainful taste: suicide or revenge. R. Rossi
Guidelines on the prevention of suicidal behavior. L. Pavan
Chronic therapy of mood disorders
Meeting 21 November 2003
F.Benedetti Report
Affectivity and sexuality
Meeting 11 June 2004
Opening of M.Giacopuzzi
PSYCHIATRY AND CEATIVITY
Art, literature, cinema and psychopathology
Meeting 15 April 2005
Opening of M.Giacopuzzi
Parents and children from the family of Corinth to the family of Thebes
Meeting March 31, 2006
Opening of M.Giacopuzzi
I know your intentions - Empathy in psychiatry
Meeting May 25, 2007
Opening of M.Giacopuzzi
The places of care in the mind and in reality
Meeting June 5, 2009
Psyche and Polis
Meeting 22nd January 2010
Opening of M.Giacopuzzi
"La Follia" training event
Meeting 10 June 2011
Speeches: A.Andreoli, V.Andreoli, A.Conca, U.Galimberti, M.Giacopuzzi, D.Rosi, P.L.Scapicchio
Transcranial direct current stimulation (tDCS) in the pharmacological treatment of depression
Meeting 12 October 2012
Opening G.Bonavina, R.Maggioni, L.Rampazzo
Second National Day of Direct Current Transcranial Stimulation (tDCS) in Psychiatry
NEW THERAPEUTIC PERSPECTIVES FOR PSYCHOSES AND DEPENDENCIES
Meeting 18 October 2013
Speeches: C.A.Altamura, M.Bortolomasi, A.R.Brunoni, R.Ferrucci, G.D'urso, B.Dell'Osso, G.Imperadore, M.Mondino, S.Pallanti, P.Ravazzani, M.Ribolsi, P.M.Rossini
New perspectives in personalizing the treatment of major psychosis
Meeting 5 November 2014
Interventions: M.Bortolomasi, M.Abate, M.Ruggeri, A.Vita, A.Minelli, F.Benedetti, G.Maina, M.Gennarelli
Third update day on Direct Current Galvanic Stimulation in the treatment of mood disorders, depression, psychosis and autism
Meeting 27 November 2015
Treatment by rTMS in depression is worse than other psychiatric conditions
Meeting 10 September 2015
Opening: R.Maggioni
Interventions: M.Bortolomasi, E.Zampieri, M.Abate, G.Tonon, L.Gallimberti, B.Salvoro.
Trauma and its role in psychopathology. Therapeutic interventions.
Meeting 2 March 2015
Interventions: M.Bortolomasi, G.Gainelli, I.Fernandez, G.Imperadore, M.Pagani
EMDR Training level I °
Meeting from 28 to 30 September 2017